Dental Inlays
DENTAL INLAYS
Dental Inlays are part of the Conservative Dentistry area, since its main objective is to clean the dental pieces that have seen its affected structure and thus preserve its functionality.
            What is a dental inlay?
It is a partial restoration that we use to rehabilitate later pieces, usually molars that have had a slight loss of their dental structure.
  Due to caries injuries.
Wear or fissures caused by bruxism or bad occlusions.
Direct impact on the tooth.
 INCRUSTATION IS A VERY AESTHETIC PARTIAL RECONSTRUCTION THAT ALLOWS TO RETURN FUNCTIONALITY TO DAMAGED DENTAL PIECE
The first thing our dental specialist will do is prepare the damaged tooth cavity.
Then the specialist will scan the patient's oral cavity to take exact measurements of the teeth. The measurements are sent to the dental laboratory that will make a custom inlay for placement in a subsequent visit.
On the first visit our specialist will provisionally seal the cavity of the dental surface.
At the next visit, the specialist in Conservative Dentistry will remove the provisional sealing material from the patient and cement the final Embedding on the dental piece.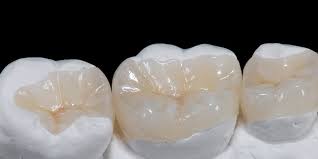 What types of Dental Inlays do we work with?
Our specialist will perform Dental Inlays with two types of materials:
 Composite: Embedding is done in a single session. The hue is similar to the tone of the tooth. It is cheaper than porcelain. It is a material that tends to wear and crack with a durability of between 5 and 10 years.
Porcelain: It is a highly resistant and very aesthetic material. It is made to measure and with the same characteristics of our dental piece, so that the aesthetic result is exceptional. It is resistant to stains and has a half-life of approximately 30 years.
Depending on the diameter of the Dental Embedding on our tooth, we can talk about 3 different types.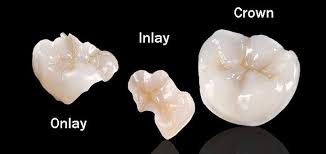 When is a Dental Inlay indicated?
It will be the specialist in Conservative Dentistry who decides if this technique is indicated for us or not.
The dental piece must have a normal anatomical shape, and the crown must have adequate length to retain this restoration.
Patients should carry out rigorous dental hygiene and have little predisposition to tooth decay.
When the affected tooth does not serve as a support for fixed partial dentures or removable dentures.
PORCELAIN INCRUSTATIONS ARE HIGHLY AESTHETIC AND VERY RESISTANT. YOUR DURABILITY CAN ASCEND UP TO 30 YEARS.
Sometimes it happens that the dental structure has been severely damaged and it is not possible to carry out a Dental Inlay.
In these cases the specialist will resort to the Dental Crown.
They are covers that mimic the anatomy of the tooth and cover the entire damaged part.
At the Dávalos & Balboa Dental Clinic, in Murcia, we are pioneers in the most avant-garde techniques in dentistry.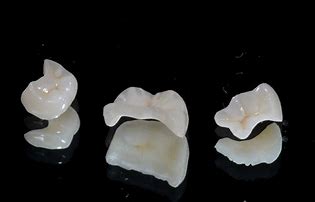 Our doctors, specialists all in each of the areas of dentistry, are great professionals with extensive professional experience.
If you would like more information, do not hesitate to visit us or send us your questions.
Dental Embedding in Murcia, in Dávalos & Balboa we are leaders in cutting-edge dentistry.
 First consultation and diagnosis with our specialists completely free.
Remember to follow us on social networks:
Me ha gustado mucho

Me han tratado muy bien en la clínica dental Dávalos & Balboa.

Manuel Martinez
Compartir: