EXCLUSIVE PROMOTION Hyaluronic Acid
EXCLUSIVE PROMOTION Hyaluronic Acid
In Dávalos & Balboa, your Dental Clinic in Murcia, we care about offering you comprehensive treatments. So that in addition to wearing a healthy and beautiful smile, your skin also looks healthy and radiant. Thus achieving perfect harmony.
Today we want to talk about a Top10 treatment: Hyaluronic Acid.
Within the great diversity of aesthetic treatments that exist, Hyaluronic Acid is one of the least invasive and provides the most natural results.
Hyaluronic Acid is a substance that is found naturally in our body. It helps keep our skin hydrated and with a healthy texture.
Infiltrated in both cheekbones, nasogenial grooves, as in peribucal wrinkles and lips, we get a hydration, redensification of our skin and juiciness in our lips, which returns us a luminous and healthy appearance to our skin in a completely natural way.
EXCLUSIVE PROMOTION 1 vial of HIALURONIC ACID € 180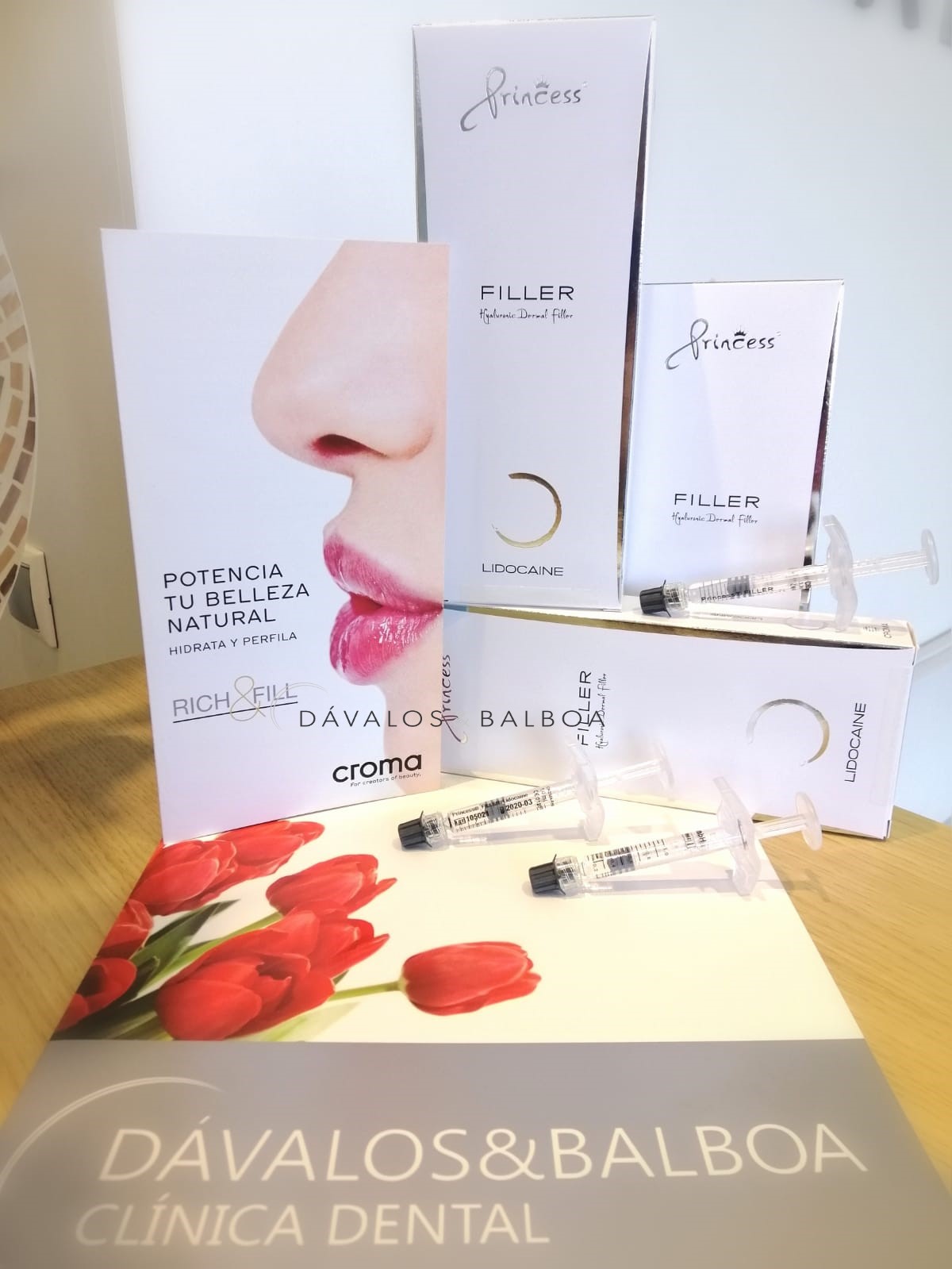 For what type of wrinkles is Hyaluronic Acid recommended?
Lip or peribucal wrinkles.
Contour and corner of the lips.
Lip and facial volume.
Nasogenian grooves.
Crow's feet.
What benefits does Hyaluronic Acid bring us?
It is a substance that is found naturally in our body.
Resorbable material by our own body.
It is gradually degrading.
Totally safe treatment.
It does not produce allergies or rejection.
The effect of filling with Hyaluronic Acid is perceived from the first moment.
It helps to restore the volume of our face.
Fill in wrinkles.
Redensifies the skin progressively.
Hydrates lips.
softening and rejuvenating peribucal wrinkles.
It allows to have a more homogeneous face.
It can be done at any time.It is a non-surgical, non-painful and outpatient procedure.
To reward your loyalty, we would like you to start the year wearing healthy and radiant skin.
THEREFORE WE MAKE YOUR FANTASTIC EXCLUSIVE PROMOTION 1 vial of HIALURONIC ACID AT AN INCREDIBLE PRICE € 180
* Promotion available until the end of February 2021  


Me ha gustado mucho

Me han tratado muy bien en la clínica dental Dávalos & Balboa.

Manuel Martinez
Compartir: